Customer Relationship Management (CRM) Tools: the backbone of modern businesses. They help manage and analyze customer interactions, leading to improved customer satisfaction, increased loyalty, and soaring sales. CRM tools offer features like contact management, lead tracking, sales forecasting, and marketing automation, all aimed at enhancing the customer experience.
Gone are the days of bulky ledgers; CRM systems now organize and centralize data, facilitating better customer experiences and teamwork. In this article, we explore the significance of CRM software for agencies and showcase the top CRM tools they can leverage.
Why CRM Tools Matter
For agencies, maintaining strong customer relationships is vital for success. CRM tools streamline communication with customers, track leads, and boost productivity. They centralize customer data, enabling personalized services. These tools also yield valuable insights into customer behavior, helping agencies adapt their strategies. A CRM for marketing ensures happier customers, increased sales, and long-term success.
Now, let's delve into the best CRM tools for agencies:
Salesforce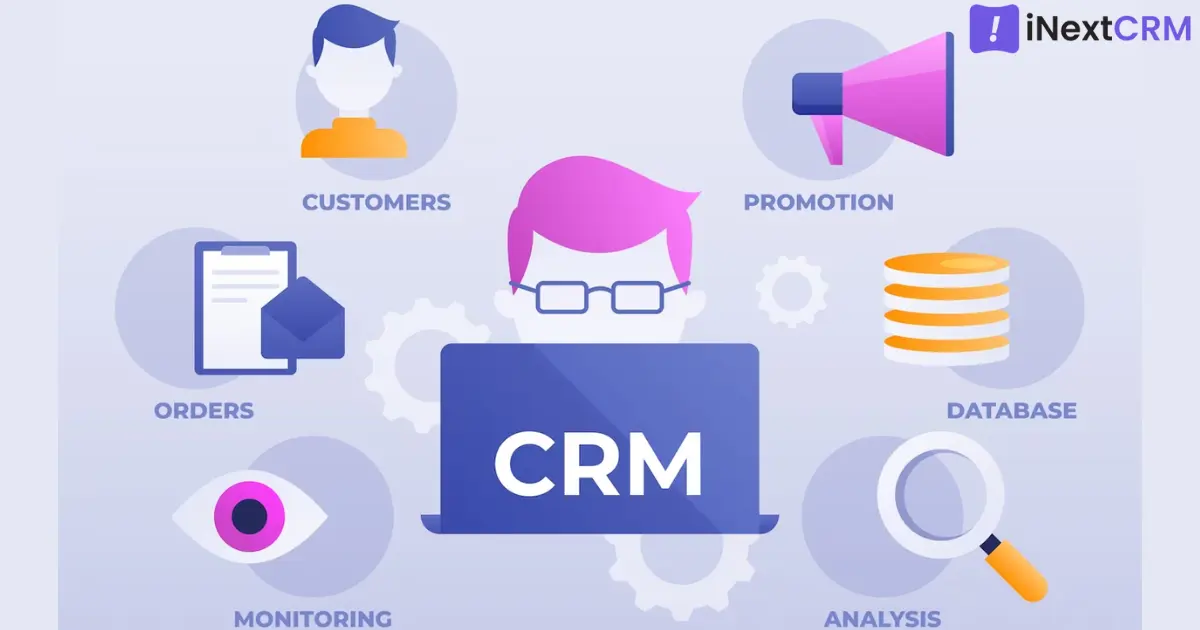 Salesforce stands as an industry-leading CRM software. With various plans, it accommodates businesses of all sizes. Salesforce provides a plethora of features for sales, marketing, and beyond. It's a preferred choice for many agencies, known for continually updating its offerings based on user feedback.
Essential: $25/month
Professional: $75/month
Enterprise: $150/month
Unlimited: $300/month
Salesforce excels in adapting to diverse business needs, making it a top pick for agencies.
HubSpot
HubSpot is an excellent choice for those just starting out. They offer a free plan with essential features, including email templates, integration with Gmail and Outlook, contact management, task scheduling, and email automation. Premium features are available in paid plans.
Free
Starter: $45/month
Professional: Starts at $800/month
Enterprise: Starts at $3200/month
HubSpot's free plan provides a solid foundation for small agencies, and their premium plans cater to growing businesses.
iNextCRM
iNextCRM is tailor-made for agencies, having served over 1900 of them. With two feature-rich plans, it offers a wide range of tools across various verticals. iNextCRM's user-friendly interface simplifies customization and use.
Free Forever Plan
Premium: $9/month
iNextCRM seamlessly interfaces with essential apps, making it a versatile CRM tool for agencies.
Bitrix24
Bitrix24 suits both beginners and large agencies. It offers extensive features for brand agencies and facilitates swift communication between teams. Bitrix24 includes task tracking, progress monitoring, and a customizable message filter.
Cloud Pricing

Free
Special Plan: $55/month

On-Premise Pricing

$1490 for 12 users
$2990 for 50 users
$24990 for 1000 users
Bitrix24's flexible pricing options cater to businesses of all sizes.
Zoho
Zoho is known for its broad range of features and excellent integration capabilities with over 300 third-party providers. Zoho offers other products like Zoho Books and Zoho Projects, enhancing your agency's capabilities. Zia, its AI assistant, further augments functionality.
Starter: $8/month
Standard: $12/month
Professional: $20/month
Enterprise: $35/month
Zoho is a competitively priced CRM tool, making it an attractive option for agencies.
Pipedrive
Pipedrive caters to small businesses and startups focused on sales. It boasts lead management, sales forecasting, and customer relationship management features. Pipedrive's simple interface ensures rapid adoption, while reporting and analytics provide valuable insights.
Pipedrive's pricing varies depending on the specific features you require.
Freshsales
Freshsales is a cloud-based CRM tool designed for small to medium-sized businesses. It offers features like lead management, opportunity tracking, and analytics. With user-friendly interfaces and integrations, Freshsales helps streamline workflows and enhance productivity.
The cost of Freshsales varies based on your specific business needs.
In conclusion, CRM tools are essential for managing customer relationships and driving business growth. To choose the right CRM tool for your agency, consider your business needs, ease of use, integration capabilities, and budget. The best CRM system will help you efficiently manage customer relationships, increase sales, and achieve your agency's goals.
For CRM Solutions or Business Automation Services, feel free to reach us at biz@inextcrm.com or call/WhatsApp at +91-7506506672.