Running an agency is no small feat. It's like managing ten things at once. There are multiple things that need to be taken care of.
For example, the marketing team generates leads and passes them on to the sales team who close them as a client, and then the finance team makes sure to send out the invoices on time and get paid for services rendered. Lastly, there's the creative team. Once leads are converted into clients, account managers talk to the client and get a project brief, and the creative team starts working on the actual project.
The more workflows happening at once, the greater are the chances of making a mistake. Luckily, there are tons of different tools available at your fingertips to scale your agency.
However, there are so many different tools to choose from that it can be overwhelming for you. In this article, we will explore various tools that can help agencies and freelancers streamline their operations and scale their businesses effectively.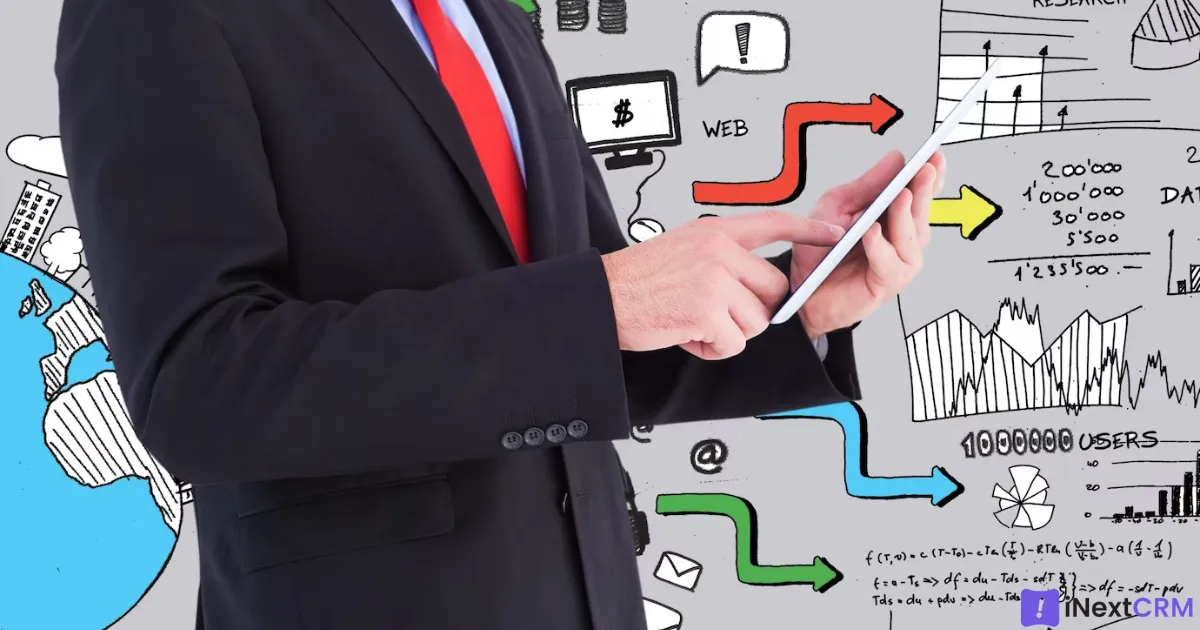 Categories of Tools Mentioned
CRM Tools: Keeping Client Relationships Strong
Clients are an agency's most valuable asset. To maintain a strong relationship, you have to make every effort to understand their needs. That is why it is essential to have a CRM tool.
A CRM tool allows you to keep track of clients and potential leads' details, identify sales opportunities, track service problems, and manage marketing strategies all in one place. And the best part? That information about a client and interactions with them can be accessible to anyone who might need it at your agency.
Let's look at a few benefits of using a CRM tool:
4 Benefits Of CRM Tool
Enhance engagement with high-quality leads: A powerful CRM can help with prospecting by segmenting leads based on their behavior and location. For example, you can segment leads based on who has visited your pricing page and send them targeted messages with offers that will pique their interest.
Concentrate on the right deals: With tags like 'Discovery,' 'Qualified,' 'In Conversation,' 'Closed Won,' an AI-powered CRM gives you a visual overview of all the deals in a pipeline. Throughout the sales pipeline, keep track of how each deal is progressing; identify and eliminate pipeline bottlenecks. Concentrate on the offers that will net you the most money; determine which deals are most likely to close and where additional resources are needed.
Stay on top of sales activities: According to Hubspot research, 82% of customers expect businesses to respond quickly, and 62% of these consider ten minutes or less to be immediate. Fortunately, one of the advantages of a CRM is that it will assist you to do just the same, such as automated emails to promptly respond.
Improve conversion rate: For starters, you can find out where your prospects are falling off and joining your sales funnel by monitoring their activity on your platform. You can use this information to reduce drop-off points and increase conversions.
Here are a few Top CRM Tools for Agencies:
iNextCRM

iNextCRM is a comprehensive CRM tool designed specifically for agencies and freelancers. It offers a wide range of functionality across multiple verticals, including Lead Management, Preparing Proposals, Client Management, and Invoices.
Pricing:

SalesIQ –  ₹479 Monthly
ProjectPro – ₹ 359 Monthly
SupportGuru – ₹299 Monthly
UltimatePro –₹659 Annually

BenchmarkONE

BenchmarkONE is a specially developed CRM and marketing automation platform for SMBs and agencies. It simplifies lead scoring, email marketing, and tracking tools.
Pricing:

Core – $79 Monthly
Pro – $139 Monthly
Enterprise – $199 Monthly

Pipedrive

Pipedrive is a CRM tool designed to encourage salespeople to work with customers and managers. It is ideal for long or difficult sales companies as it is mainly a tool for pre-sales.
Pricing:

Essential – $21.88 Monthly
Advanced – $40.12 Monthly
Professional – $71.73 Monthly
Bonus: 5 Best CRM Tools For Agencies
Legal Tools: Protecting Your Professional Interests
The last thing agencies and freelancers need when working on a huge project or account is to concentrate on certain legal issues rather than on the job. Even though it might not be interesting to think about legalities, it'd be helpful to have a few legal tools that protect your professional interests.
Here are a few legal tools you can use:
Zen Business

Zen Business is a reliable partner for business owners who want to start, run, and grow their company. It leverages technology and automation to deliver quick and low-cost services, expert support, and a personalized dashboard that puts everything you need at your fingertips.
Pricing:

Starter – $49 Yearly
Pro – $199 Yearly
Premium – $299 Yearly

Gust

Gust helps startups launch and supports founders with legal tools and business advice. Their focus is on incorporation because they were created by venture capitalists who expect you to fund your startup with equity investors.
Pricing:

Start – $300 Yearly (Ideal for startup)
Accelerate – $1000 Yearly (Ideal for fundraising)
Raise – $3000 Yearly (Ideal for company operations)

Legal Shield

LegalShield focuses on prepaid legal policies for both individuals and businesses. However, if you pay a monthly fee, you can get legal advice on a variety of small business issues, including contract analysis, debt collection assistance, and also you can call a legal attorney for any queries.
Pricing:

SMB Legal Essentials – $49 Monthly
SMB Legal Plus – $99 Monthly
SMB Legal Pro – $169 Monthly

Swyft Filings

Swyft Filings will begin the process of creating your new agency right away. This tool has some of the quickest processing times in the industry. Swyftly enables you to get your agency up and running. Swyft Filings Business Specialists will properly shape your new agency, saving you time and money by avoiding costly mistakes.
Pricing:

Starter Pack – $49 Monthly
Bonus: 5 Essential Legal Tools To Manage Your Agency
Productivity Tools: Boosting Efficiency
While running an agency, you and your team are working on multiple aspects such as generating leads, managing clients, and so on. These tasks can occupy a lot of your and your team's time which can result in less productivity.
Here are some of the best productivity tools that we've found to be effective in our work processes:
Slack

Slack is a workplace communication tool that works as a single location for messaging, tools, and files. Slack is an instant messaging system with a wide range of add-ons tools.
Pricing:

Free Plan
Pro – $7.60 Monthly
Business+ – $14.29 Monthly
Enterprise Grid – Quote

Livestorm

Livestorm is a video engagement platform that lets you create everything there is related to videos and host webinars. It's built to be the most user-friendly experience and to work and integrate with the existing tools you use.
Pricing:

Free Plan
Premium – $99 Monthly
Enterprise – Quote

Trello

Trello is a project management tool that makes it easy to organize tasks and coordinate efforts. It uses cards and boards to visually represent tasks and their status.
Pricing:

Free Plan
Business Class – $9.99 Monthly
Enterprise – $17.50 Monthly
Collaboration Tools: Working Together Seamlessly
Agencies often need to collaborate with multiple teams and freelancers on various projects. To ensure efficient collaboration, it's crucial to have the right tools in place. Here are some collaboration tools that can help:
Google Workspace (formerly G Suite)

Google Workspace provides a suite of cloud-based productivity and collaboration tools, including Gmail, Google Drive, Google Docs, Google Sheets, and more. It's ideal for real-time collaboration and document sharing.
Pricing:

Business Starter – $6 Monthly
Business Standard – $12 Monthly
Business Plus – $18 Monthly
Enterprise – Custom Pricing

Slack

Slack is a popular team communication and collaboration platform. It allows teams to create channels for specific projects or topics, share files, and integrate with various other tools and services.
Pricing (Already mentioned above in Productivity Tools section).

Asana

Asana is a project and task management tool that helps teams organize and track work. It's suitable for managing workflows, setting priorities, and ensuring everyone is on the same page.
Pricing:

Basic – Free
Premium – $10.99 Monthly
Business – $24.99 Monthly
Enterprise – Custom Pricing
Marketing Tools: Generating Leads and Growing Your Agency
Marketing is crucial for agency growth. Here are some marketing tools that can help you generate leads and expand your agency's reach:
HubSpot

HubSpot is an all-in-one inbound marketing, sales, and customer service platform. It offers tools for email marketing, CRM, content management, social media, and more.
Pricing:

Free Plan
Starter – $45 Monthly
Professional – $800 Monthly
Enterprise – $3200 Monthly

Buffer

Buffer is a social media management platform that helps you schedule and publish content across multiple social networks. It also provides analytics to track the performance of your social media efforts.
Pricing:

Pro – $15 Monthly
Premium – $65 Monthly
Business – $99 Monthly

Ahrefs

Ahrefs is a comprehensive SEO toolset that can help you with keyword research, competitive analysis, backlink analysis, and more. It's essential for improving your agency's website and content SEO.
Pricing:

Lite – $99 Monthly
Standard – $179 Monthly
Advanced – $399 Monthly
Agency – $999 Monthly
Financial Tools: Managing Finances Efficiently
Effective financial management is critical for agencies and freelancers. Here are some financial tools that can help you manage your agency's finances:
QuickBooks Online

QuickBooks Online is a cloud-based accounting software that simplifies financial management. It offers features for invoicing, expense tracking, payroll, and more.
Pricing:

Simple Start – $12 Monthly
Essentials – $20 Monthly
Plus – $35 Monthly
Advanced – $75 Monthly

Xero

Xero is another cloud-based accounting solution designed for small businesses and agencies. It offers features like invoicing, bank reconciliation, expense tracking, and more.
Pricing:

Early – $9 Monthly
Growing – $30 Monthly
Established – $60 Monthly

FreshBooks

FreshBooks is an accounting and invoicing software designed for small businesses and freelancers. It offers features like time tracking, project management, and expense tracking.
Pricing:

Lite – $15 Monthly
Plus – $25 Monthly
Premium – $50 Monthly
Project Management Tools: Keeping Projects on Track
Managing projects efficiently is crucial for agencies. Here are some project management tools to help you keep projects organized and on track:
Monday.com

Monday.com is a work operating system that powers teams to run projects and workflows with confidence. It's a simple but intuitive tool that enables people to manage work, meet deadlines, and build a culture of transparency.
Pricing:

Basic – $10.80 Monthly
Standard – $15.60 Monthly
Pro – $21.60 Monthly

Basecamp

Basecamp is a project management and team collaboration software that offers to-do lists, file sharing, message boards, and more. It's designed for simplicity and ease of use.
Pricing:

Free Plan
Business – $99 Monthly

ClickUp

ClickUp is an all-in-one project management platform that offers task management, goal tracking, time tracking, and more. It's highly customizable to suit different workflows.
Pricing:

Free Plan
Unlimited – $5 Monthly
Business – $9 Monthly
Enterprise – Custom Pricing
Design Tools: Creating Stunning Visuals
For agencies involved in design and creative work, having access to the right design tools is crucial. Here are some design tools that can help you create stunning visuals:
Adobe Creative Cloud

Adobe Creative Cloud is a comprehensive suite of design and creative software, including Photoshop, Illustrator, InDesign, and more. It's a standard in the design industry.
Pricing:

All Apps – $52.99 Monthly
Single App – $20.99 Monthly

Canva

Canva is a user-friendly graphic design tool that offers a wide range of templates and design elements. It's suitable for creating social media graphics, marketing materials, and more.
Pricing:

Free Plan
Pro – $12.95 Monthly
Enterprise – Custom Pricing

Figma

Figma is a collaborative interface design tool that allows multiple users to work on design projects in real-time. It's great for web and app design.
Pricing:

Starter – Free
Professional – $12 Monthly per Editor
Organization – Custom Pricing
Content Creation Tools: Producing Quality Content
Quality content is essential for agencies involved in content marketing and copywriting. Here are some content creation tools that can help you produce high-quality content:
Grammarly

Grammarly is an AI-powered writing assistant that checks for grammar, spelling, punctuation, and style errors. It's a valuable tool for improving the quality of written content.
Pricing:

Free Plan
Premium – $11.66 Monthly
Business – Custom Pricing

Hootsuite

Hootsuite is a social media management platform that allows you to schedule and publish content across multiple social networks. It also provides analytics and monitoring tools.
Pricing:

Professional – $19 Monthly
Team – $99 Monthly
Business – Custom Pricing

CoSchedule

CoSchedule is a content marketing platform that offers a content calendar, social media automation, and marketing analytics. It's designed to help you plan and execute content marketing strategies.
Pricing:

Marketing Calendar – $29 Monthly
Marketing Suite – Custom Pricing
Analytics and Reporting Tools: Measuring Success
Analyzing data and reporting on the performance of your agency's efforts is crucial. Here are some analytics and reporting tools to help you measure success:
Google Analytics

Google Analytics is a web analytics service that tracks and reports website traffic. It provides valuable insights into user behavior, helping you optimize your online presence.
Pricing: Free

Google Data Studio

Google Data Studio is a free business intelligence and data visualization tool. It allows you to create interactive and shareable dashboards and reports.
Pricing: Free

Tableau

Tableau is a powerful data visualization and business intelligence tool. It's ideal for agencies that need advanced data analysis and reporting capabilities.
Pricing:

Creator – $70 Monthly
Explorer – $35 Monthly
Viewer – $12 Monthly
Remember that the best tools for your agency may depend on your specific needs, budget, and the type of services you offer. It's essential to evaluate each tool's features and pricing to determine which ones align with your agency's goals and requirements. Additionally, consider starting with free trials or free plans to test the tools before committing to paid subscriptions.