In many ways, the Sales Funnel digital technology has made the sales process easier than ever before. At the same time, this means that your company must learn all of the different ways that prospects can be converted into customers. Otherwise, you'll not only be leaving money on the table, but you'll also be giving your competitors an easy way around you.
To convert website visitors into paying customers, everyone who owns an agency must create a sales funnel.
If you don't do that, you won't make much money.
Your sales funnel's primary goal is to move people from one stage of the funnel to the next until they are ready to buy. While not every tactic or strategy will work for you, you may and should combine several techniques to get the most out of your marketing.
Understanding the Sales Funnel
A sales funnel is a marketing concept that depicts a customer's journey from a prospect to a loyal customer. Consider a funnel in real life. The funnel has a broad opening at the top that narrows as it gets closer to the end. Your funnel will be filled with potential consumers. However, qualifying prospects will be pushed to the next stage of the funnel at each stage, eliminating individuals who aren't a good fit for your offer.
The decision stage of your sales funnel is the point in your digital marketing funnel where a customer decides whether or not to buy something. When a customer chooses which product to buy or from the several packages you have to offer, he or she can be said to be at the decision stage. He will only proceed to the activity level of your sales funnel after completing the sale. A full sales funnel is a multi-stage process that you guide your customers through, beginning with awareness and ending with purchase. This journey is frequently divided into five major stages.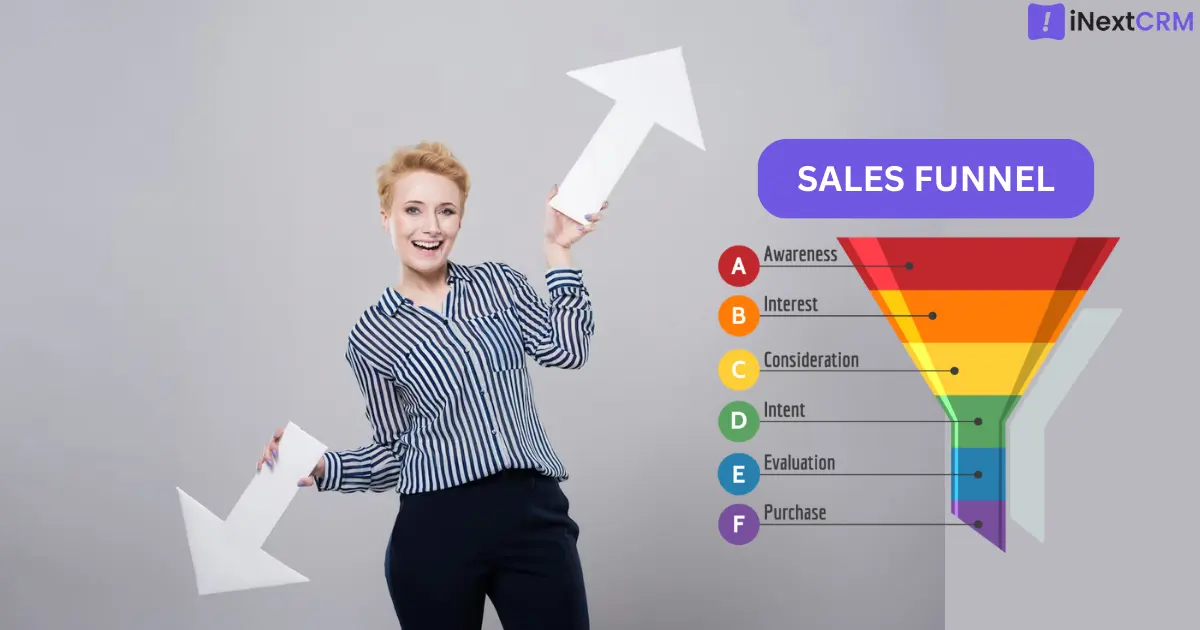 They are as follows:
Awareness
Interest
Desire
Action
Retention
The acronym AIDA can help you remember the various sales funnel stages.
How the Sales Funnel Works
There are more and more entry points into your sales funnel as a result of digital media. Prospects are entering at various stages and are largely in charge of the process. Customers are more informed than ever before, and they conduct their research before contacting companies directly.
Unfortunately, this means that salespeople have fewer opportunities to cultivate relationships and fewer opportunities to capitalize on all of the benefits that come with traditional management.
The various stages of the sales funnel and what happens at each stage are debatable, but the goal is the same: to attract leads to your product or service and convert them into paying customers.
Let us give you sales funnel examples that you could find very interesting.
For iNextCRM, being a CRM software for Agencies, our major target audience includes the early adopters of new technology who are found generally on Twitter, LinkedIn, and Product Hunt looking for the next opportunity and new tools to explore. In adherence to this, we launch free resources every week on Product Hunt as well as a post on every social media handle that drives traffic to a landing page. So once the interested people reach our landing page to get freebies they have to sign up for an email list in exchange for the resource. Isn't it fairly simple?
Instead of prospects, we now have leads. They're making their way through the funnel. We provide them further value by sharing more resources as soon as it launches to make sure they have the up-to-date information to grow their business. There is no commitment required to sign up for a trial. We do offer personalized demos to them if they are happy with our resources and want to explore doing business with us.
Following that, we add the same customers to a new email list. We restart the process but with different content.
Here you have it:
Awareness: We launch relevant free resources on the Product Hunt to drive people to our website.
Interest: In exchange for lead capture, we provide something of value content.
Desire: Prospects start liking the brand, product, or service.
Action: We offer an appealing discount code or a free trial to our leads before resuming marketing to them in order to increase retention.
Retention: Finally, the customer has purchased the product; now it is time to provide the best customer support and services possible to increase our retention rate. Once a customer is satisfied, they will undoubtedly recommend the product to their friends, colleagues, family, and so on. As a result, it is a win-win situation.
Each step they take downward is another stage of the funnel, bringing them closer to the narrowest point—the point of decision—which you hope will be the point of conversion.
The Importance of the Sales Funnel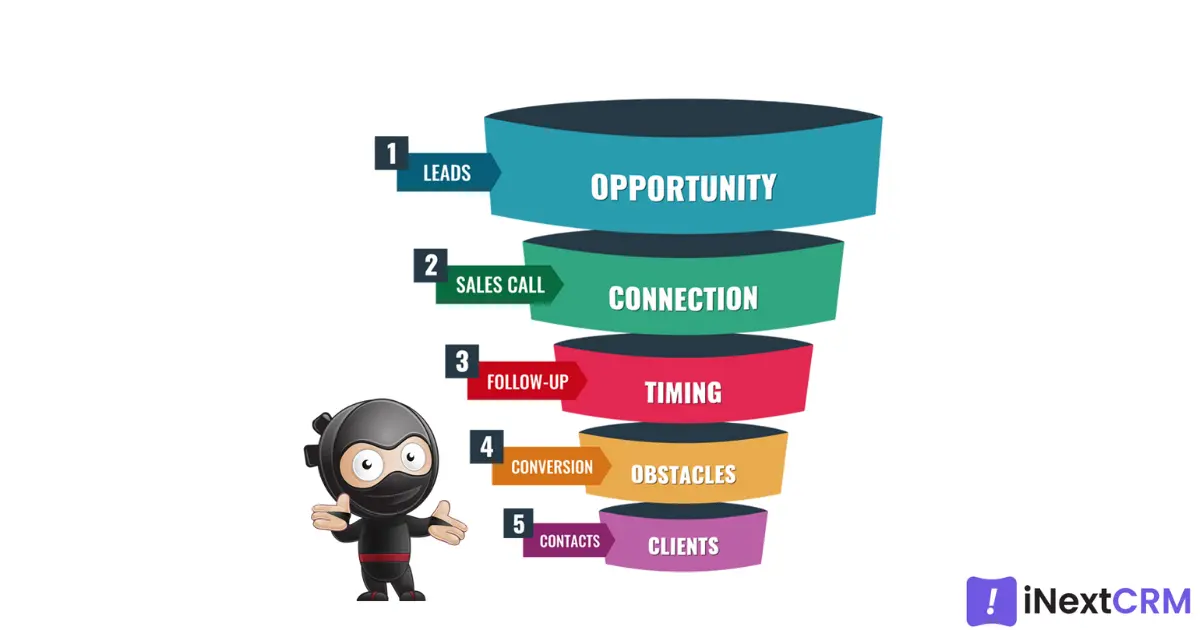 We hope you have a good understanding of how the sales funnel works. However, you should be aware of the importance of the sales funnel as well.
The sales funnel is a diagram that depicts your sales process. It shows how prospects begin your sales process and progress through it until they make a purchase. Understanding your sales funnel reveals how your sales process works, as well as its shortcomings and the points at which prospects drop out and fail to convert. Identifying the flaws in your sales funnel will allow you to address them and convert more leads into clients.
Pardot reports that 68% of businesses have not identified or attempted to measure a sales funnel. According to the same survey, 79% of leads never become paying customers. These outcomes are, without a doubt, inextricably linked. Without an effective sales funnel — also known as a conversion funnel — in place, it can be difficult for businesses to move leads through the pipeline, make sales, and identify where changes need to be made to improve their processes. Sales funnels help businesses improve their relationships with leads and customers, provide a more personalized approach, increase sales, and maximize marketing efforts. What is not to love?
The sales funnel informs the sales team about where the customer came from, i.e., which source they used (Facebook, Eventbrite, YouTube, LinkedIn, etc.)
The funnel assists businesses in defining their overall sales process, allowing them to identify and thus remove any bottlenecks when it comes to closing out deals.
We hope you now understand why a sales funnel is important for your company. Let's go over the stages of a basic sales funnel that you'll use.
Your prospects go through a series of stages, from when they first know about you to the time they make a purchase decision.
Due to differences in your buyer personas, products, and niche types, this journey may differ from prospect to prospect, so your full sales cycle may have as many stages as possible.
The Five Stages of the Sales Funnel
There are five stages of the sales funnel. So following that, we will list down the five stages of the sales pipeline and explain each and every step in depth.
Awareness
The awareness stage (at the top of the funnel) is the largest and has the most people. This stage is made up of leads or people who find their way to your website by chance or because they are looking for a service to solve their needs. Prospects learn about your site for the first time at this stage, either through Google search, ads, social networks, referrals, email marketing.
Every lead is a potential customer, so making a good first impression is critical. In some cases, the prospect may become aware that they have a need or a problem that needs to be addressed. They may then be aware that you provide a solution. They may become aware of your company and its solution at precisely the right time and decide to purchase at that point.
Interest
The prospect has already landed on your page and is actively looking for solutions to their problems at this point. They show an interest in your goods/services. They may choose to subscribe to your email list or follow you on social media. At this point, attracting the prospect with the right content would be ideal. The goal is to inform and educate rather than sell. This allows you to demonstrate your knowledge and expertise in the field of interest. It could be a case study about how a company used your product to solve a similar problem, or it could be a helpful article about the product.
Desire
Prospects are choosing whether or not to purchase at this point. They'll pay great attention to what you have to offer in terms of plans and pricing, then compare it to what your competitors have to offer.
This is when retargeting, webinars, landing sites, and other methods are used to make several tiers of sales pitches. This is the time to make your finest offer: a first-purchase discount coupon, a bonus product if they purchase by a particular deadline or a free trial.
Action
Action is the last stage of the sales funnel. By acquiring your product or service, the prospect becomes a client (or decides to leave without making a purchase). When a customer buys something from you, they become a part of your company's ecosystem.
The process isn't finished just because the customer has reached the bottom of the sales funnel. The consumer has taken action, and now you must work on customer retention to purchase additional products or services in the future and suggest your business to others. This procedure entails developing and delivering the appropriate value content to your clients at the appropriate moment.
Retention
The total experience your new consumer has with your organization will determine whether or not they become loyal to your brand. Of course, when it comes to building a trust-based connection with your clients, the quality of your core product is critical. However, as we have stated, customer retention is not the end of the journey. Instead, a complete customer retention strategy should be devised. From the start, focus on making your clients' journey as seamless and delightful as possible. Optimize your website, invest in soft skills training for your customer service team, develop loyalty programs.
Finally, don't overlook the importance of communication. Request feedback from your customers to see if they're happy with the product they bought, and continue to develop your product to provide a better offering.
Crafting the Right Content at Each Stage
To generate awareness, there are a few steps which you can do:
Blog post (It must be relatable to your Target audience)
The blog post is the most common type of awareness-stage content. It's a simple format that most people can find with a quick Google search.
You will raise awareness by blogging about it. It could be your primary source of website traffic, and it's also a great way to engage your subscriber list by sharing valuable content.
When it comes to keyword queries, optimize titles and meta descriptions for terms like:
How
What
When
Where
How do I
Where can I
What should I
Best way to
Tutorial
Tips
Hacks
Is there a pattern here? All of these keywords represent someone looking for more information about a solution to a problem.
Now prospects enter the interest stage when they reach the middle of your funnel. They now have a much better understanding of their problem and are looking for solutions.
The following types of content should be created for the interest stage:
Ebooks and other downloadable resources
After reading an awareness-stage blog post, ebooks and other downloadable resources or resources are the ideal next step. From within your blog post, you can link to a landing page that mentions your resource and guides them through the conversion process one step at a time.
Downloadable resources can be:
eBooks
Guides
Tips Sheets
Templates
Checklists
PowerPoint Presentations
And more
These resources are great because they allow you to provide a lot of value while also showcasing your agency's expertise, giving buyers a taste of the benefits of doing business with your brand.
Prospects are in the desired stage when they are ready to buy after exploring your website and product. This is your chance to make an offer and convince them to convert.
All of that content comes into play here, but you'll need more than just your website to capitalize on your decision-stage buyer's interest in your brand.
Types of content to create for the decision stage include:
Case Studies
By the time buyers reach the decision stage; they will be far more interested in learning how you have assisted others in solving problems or meeting their needs. Case studies, use cases, reports, and help articles can help in this situation.
This is the most important stage of the buyer's journey to be able to back up any claims you've made up to this point.
This type of content should include the most important details about how you assisted others in achieving positive outcomes. It should only contain information necessary to understand the results they achieved and how you assisted them in achieving them.
Of course, this is the stage that any agency strives for — when the prospect makes the purchase and officially becomes a customer. While some may consider this to be the end of the journey, brands must continue to nurture the customer relationship even after this point.
You can offer them various things like:
CTA (Promotions, Limited-time offers, Discounts)
Various blogs for users
Newsletter
New features edition for free
One of the important stages is retention.
During the retention stage, brands strive to stay in touch with their purchasing customers in the hopes of ensuring their satisfaction with the product or service and possibly converting them into repeat customers down the road.
Always follow up with informative content that reaffirms your authority on lost leads and customers who have made purchases from your company. Measure and optimize the effectiveness of marketing automation for these campaigns.
Leveraging Social Media in the Sales Funnel
We understand how difficult it is to remember everything; you must be exhausted, right? Then we'll get to the interesting part, which is how social media plays a significant role in the sales funnel.
Social media marketing should now be used at all stages of the funnel. Social media plays a significant role in CX (Customer Experience). Connecting with brands via Facebook, Twitter, Instagram, or Snapchat is no longer a wish but an expectation. To achieve maximum social success, these platforms must be used at every stage.
"This doesn't mean sales should be spewing out like, "Check out our product content." It means engaging, commenting, answering questions, sharing educational content and resources."
Here are a few ways you can leverage social media:
Create social media content
First and foremost, you should start thinking about building a social media community as early as the Awareness and Interest stages. Include video content and live streaming on your social media calendar to attract customers.
Run targeted social ads
Targeted social media ads are an important tool during the Awareness stage. You can broaden your audience reach by running Facebook ads based on demographic data and using promoted tweets.
Educate the Customer
Social media can be a great medium to educate your customers. It not only develops loyalty but also influences users through useful, exciting, or otherwise valuable content. By empowering your brand, you can build resources for your customers and develop a new type of trust and rapport with your audience, which occurs near the middle of the funnel.
Collect Data
Social media enables business owners, brand managers, and other marketing professionals to collect data. Not only can social media be used as a free focus group or source of market research, but it can also help you get to know your current and prospective customers on a much deeper level. This role is played at the very bottom or narrowest part of the funnel, and the knowledge associated with it informs the activities at the top.
Building an Effective Sales Funnel: Tips and Strategies
Now that you know the basics of the sales funnel, let's focus on how to build an effective one:
Create A Landing Page
Prospects will most likely learn about your company for the first time through a landing page. They will be directed to a landing page if they click on an ad, register for a webinar, or download an ebook. That page should communicate who you are as a company and what makes you stand out (after all, this could be the only opportunity you have to wow prospects). Most importantly, ensure that the landing page includes a form for prospects to fill out — you want to capture their email address to continue to communicate with them.
Market Research
Many of your competitors have most likely already created a sales funnel or marketing funnel that generates engagement and sales from the exact type of customer you are attempting to attract with your funnels.
We are not suggesting that you simply replicate what your competitors are doing. However, you should pay attention to how competitors nurture their audience toward the "big sale" at the end of their own sales funnel and build a sales funnel to your benefit.
Sales Funnel Hacking
"Funnel hacking is the process of strategically investigating your competitors' sales and marketing processes to model and test within your own defined sales funnel, and marketing processes."
In other words, you'll participate in the various stages of your competitors' sales funnels, then reverse-engineer the process to figure out how to create your own.
You've probably noticed how many questions your potential customer may have before even considering purchasing from you. Sales funnels help them get to know about you a bit more.
Even though these concerns may arise at a different time and in a different order for each of your prospects, a sales funnel can help you understand what they require to move them to the next step.
Here are three steps to figure out:
A sales funnel assists you in delivering the right message at the right time. Consider the following scenario. You're in the software market. You have a very basic idea of what you want, but you aren't ready to buy yet — you want to learn about the advantages and disadvantages of various models, features, and prices. With a detailed sales funnel in place, including a map of your prospects' questions and details, you can deliver the perfect information and an aligned message to your prospects every time — and save your future customer from the frustration of the scenario above.
A sales funnel allows marketing and sales to be more aligned. Remember that your prospect can contact you at any stage of their customer journey, from early research to late decision. This is why it is critical to coordinate your marketing and sales efforts to receive the information they require, even if you cannot deliver it directly as a salesperson. To do so, your marketing team can take advantage of their online behavior, such as visiting specific pages on their website or engaging in activity within the emails they receive from you.
A sales funnel fosters commitment and loyalty. A sales funnel is more than just your efforts. As your prospect conducts research and learns about solutions, they will become aware of the numerous options available to them. They can easily switch to another solution provider and investigate their offers, especially in the early stages of their journey. This is why you must have a strategic sales funnel early on and establish a bond with your prospect. As they see that you are addressing all of their concerns, they will grow to trust you, and you will have a better chance of converting them into a customer.
When it comes to your digital advertising campaigns, success comes in many shapes and sizes.
Many advertisers expect their sales to skyrocket the moment their digital campaign goes live, but it's not that simple. Advertising success doesn't always equate to revenue, at least not immediately. You see, when a potential customer first sees an ad, they begin what is called their consumer journey. To put it another way, they begin to travel down what is called the sales funnel, the process of getting a customer from first impressions to conversion.
Every stage of the sales funnel process has different metrics for success. If you're a new brand, you'll find success at the top by making people more aware of your brand and its offerings. That is why you need to measure the success of your sales funnel. Your success metrics will be clicks to your site, engagements on-site, and of course, conversions.
Every stage of the funnel has different metrics for success and, more importantly, each stage should lead your customers to the next stage. If you're a new brand, you'll find success at the top of the funnel by simply making people more aware of your brand and its offerings. Once your brand is established in the minds of your customers, your success metrics will be clicks to your site, engagements on-site, and of course conversions. While you can still drive conversions from the top of funnel leads, smart marketers know that a full-funnel approach is the best way to build lasting relationships with repeat customers. At the end of the day, your campaign's success is determined by the stage of the funnel in which it is operating. This entails broadening your understanding of advertising success to look beyond the final sale and consider all of the steps that customers must take to get there. Focus on specific goals at each stage of the funnel, and you'll be more likely to gain new customers, keep their loyalty, and increase repeat sales from satisfied customers.
Wrapping Up
It takes time to have sales teams and create and optimize a sales funnel. It's arduous work. However, it is the only way to survive in a competitive market.
Believe it or not, a minor detail like font selection can have an impact on conversions. Take the time to create a sales funnel that reflects what you want and your target audience's wants. Cultivate it over time, adjust your approach to different sales funnel stages, and figure out why your efforts aren't working.
Remember that the largest category, potential customers, should be at the top of the funnel, while the smallest category, established customers, should be at the very bottom of the funnel.
For CRM Solution or Business Automation Service, feel free to reach us at biz@inextcrm.com or call/WhatsApp at +91-7506506672.