In today's digital landscape, content marketing stands as a cornerstone of online marketing, setting your brand apart from the competition and driving relevant traffic. However, creating high-quality content that resonates with your audience can be challenging.
It's vital to recognize that there are numerous content marketing formats, each with its unique advantages. For instance, B2B marketers may utilize educational content and email campaigns to nurture leads, while B2C marketers might focus on social media and incentive-based approaches.
To harness the full potential of these content marketing formats, it's essential to understand their types and employ them efficiently in various campaigns. This approach contributes to the development of a cohesive content marketing strategy that delivers a superior experience and greater value to your audience.
Let's dive into the various types of content marketing formats and explore how to leverage them effectively within your marketing strategy.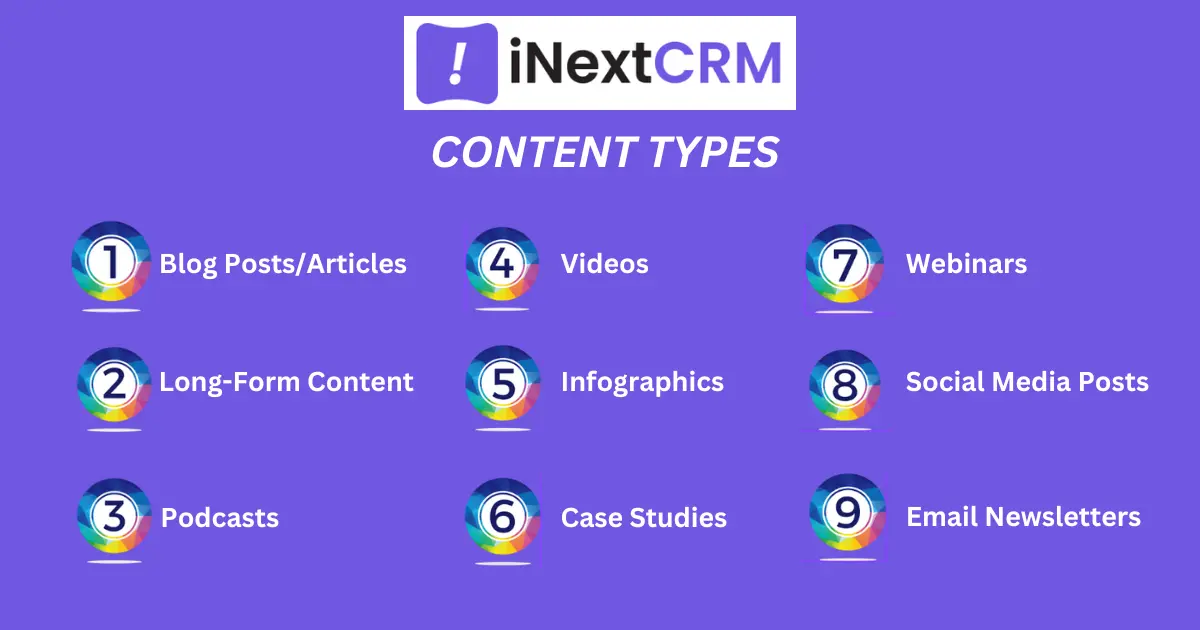 Understanding Content Marketing Formats
Every piece of content you create should serve a specific purpose, whether it's to inspire, educate, or drive sales. As people learn in diverse ways, it's crucial to recognize that different content types resonate with various segments of your audience. This underscores the importance of incorporating multiple content formats into your strategy.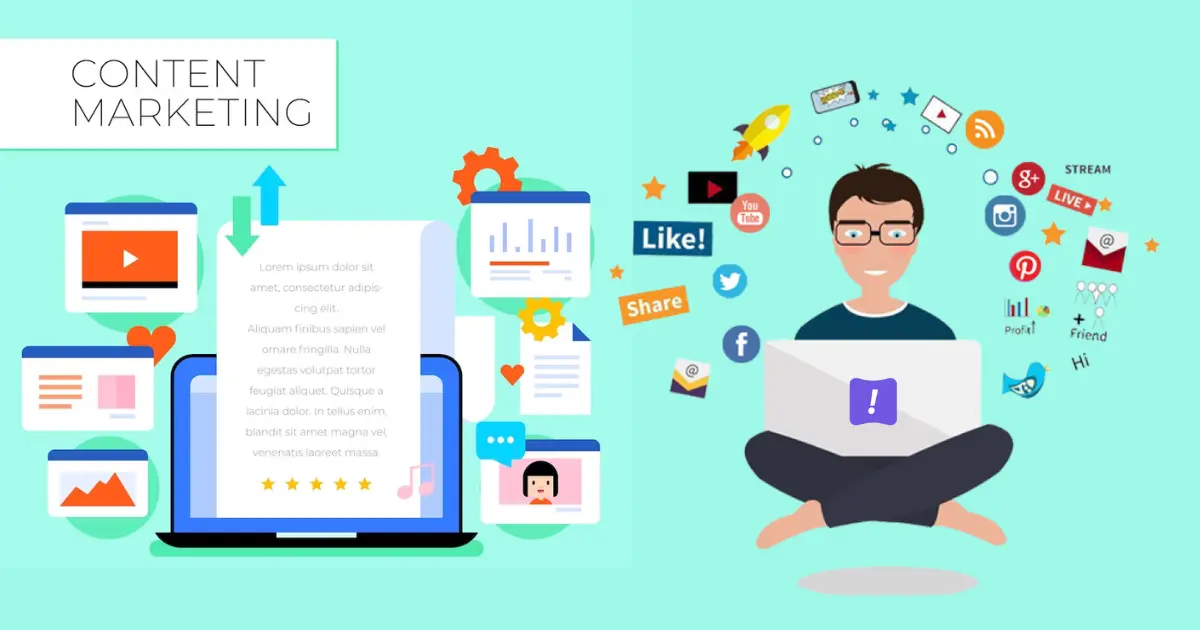 Here are some of the most popular content marketing formats frequently used:
Blog Posts/Articles
Blog posts and articles are central to the content marketing strategy of many brands. They dominate the online content landscape and are effective in driving website traffic, informing audiences about your brand and products, and establishing authority within your niche.
These written pieces allow you to answer your audience's most pressing questions and convey why your offerings are superior. Blogs are also excellent for keyword optimization and acquiring inbound links, enhancing your SEO efforts. They provide an opportunity to incorporate target keywords, thereby improving your page rank on search engine results pages (SERPs) and overall site authority. Typically, blog posts or articles range from 400 to 2,000 words, with an optimal length of around 1,600 words.
Long-Form Content
Long-form content comprises materials spanning 3,000 to 5,000 words, including white papers, eBooks, and ultimate guides. These content pieces offer substantial value to your audience and are an effective means of establishing authority within your industry.
Consider repurposing long-form content, such as guides, into eBooks. This not only enhances the rankings of your target keywords but also enables you to collect lead information, nurture prospects, and eventually convert them into customers. White papers, resembling statistical reports, can capture your target audience's attention and provide valuable insights into your company.
In fact, approximately 79 percent of B2B buyers share white papers with their colleagues, underscoring their effectiveness.
Podcasts
Podcasts have witnessed rapid growth in recent years, with over 29 million podcast episodes available online. This audio content marketing format offers an engaging means of reaching your target audience, particularly those who may not prefer lengthy articles.
One major advantage of podcasts is their accessibility, allowing your audience to consume content while engaged in other activities like driving or exercising. This sets them apart from other content formats.
Videos
If your brand offers products or services, video content should feature prominently in your content marketing strategy. Studies reveal that four times as many users prefer watching a video about a product over reading about it.
Video content, despite not always being associated with content marketing, should form a significant part of your campaign. It not only engages the audience more effectively but also aligns with the preferences of a larger portion of your audience. Videos are easily consumable and provide an excellent opportunity to capture your audience's attention, which can be challenging with lengthy written content.
Infographics
As user attention spans continue to diminish, capturing your audience's attention in a concise manner becomes crucial. Infographics offer an effective way to achieve this. These visually appealing representations can convey a wealth of information within a single image, making complex concepts easier to grasp.
Infographics are not only visually appealing but also easily comprehensible. They have a 30% higher likelihood of being consumed compared to purely written content, making them a powerful tool in content marketing.
Case Studies
Case studies involve sharing success stories of existing or past clients. They offer an excellent means for potential leads to learn about your services through the experiences of others. Case studies build trust among potential clients, encouraging them to engage with your services.
By sharing the entire client journey, you enable leads to understand how your expertise can yield better results. Consequently, case studies are among the top content marketing formats that foster trust and encourage engagement.
Webinars
Online webinars serve as an educational platform for prospects to learn about your services while positioning your brand as an industry authority. Conducting webinars allows you to reach potential leads, inform them about your services, and provide expert insights on specific topics or problem-solving techniques.
Webinars offer a unique advantage: they facilitate interaction and engagement with your audience outside of a formal setting. Viewers can ask questions in real-time, and you can respond immediately, creating a personal connection that other content formats may not achieve.
Social Media Posts
Social media platforms boast billions of active users each month, making them an indispensable part of your content marketing strategy. Social media posts enable direct engagement with your audience without formal constraints. This real-time interaction provides valuable feedback and insights into your audience's concerns and challenges.
Moreover, you can repurpose your existing content, such as blogs, podcasts, and videos, for social media. However, it's essential to ensure that your social media posts offer shareable, bite-sized, yet valuable content. Collaborating with relevant influencers and exploring meme marketing can also enhance your social media presence.
Email Newsletters
While emails are considered a formal communication channel, newsletters offer a direct way to reach your audience in their inboxes. This tried-and-true content marketing strategy continues to gain traction and is expected to remain robust in the future.
Newsletters benefit from the fact that your audience has given explicit permission to communicate with them. Furthermore, modern email automation techniques enable you to create campaigns that automatically send emails to specific subscriber segments at predetermined intervals.
Final Thoughts
While blogs and articles form the cornerstone of content marketing, it's crucial not to rely solely on one type of content for your business. Diversifying your content plan is essential for achieving long-term goals and desired results. In addition to the content types mentioned above, there are numerous others to explore. To determine what works best with your audience, it's essential to experiment and analyze results continually.
So, which content marketing formats will you create or incorporate into your business strategy?