Introduction: Invoicing is the financial lifeblood of freelancers and solopreneurs, ensuring that their hard-earned money flows in a timely manner. However, manual invoicing can be a tedious and time-consuming task, diverting your focus from your core work. This is where invoicing software comes to the rescue. In this article, we'll delve into the world of invoicing tools and unveil the top 10 options that cater to the unique needs of freelancers and solopreneurs.
iNextCRM: Your Invoicing Ally iNextCRM is not just another CRM tool; it's a comprehensive solution that empowers both freelancers and agencies to streamline their financial processes, including invoicing. Here's why it's a game-changer:
Key Features: iNextCRM offers intuitive invoicing features that allow you to create professional invoices effortlessly. Customize templates, add branding, and set up recurring invoices for regular clients.
Time-Saving Automation: Bid farewell to manual data entry. iNextCRM automates repetitive tasks, reducing the chances of errors and ensuring that your invoicing process is quick and accurate.
Pricing: Enjoy the benefits of iNextCRM's invoicing prowess with our competitive pricing plans. Check here for detailed pricing information.
Indy: Invoicing for Independent Contractors Indy is designed with independent contractors in mind, offering a straightforward solution for creating, sending, and managing invoices. Here's why freelancers love Indy:
User-Friendly Interface: Indy boasts an interface that's a breeze to navigate. Creating professional invoices is a matter of minutes, allowing you to spend more time on your work.
Integration and Time Tracking: Streamline your invoicing further by integrating your contact list and tracking your working hours with Indy's Time Tracker. It's all about making your life easier.
Payment Options: Clients can conveniently pay you through popular methods like PayPal, Zelle, Stripe, and other card payment gateways. Plus, you can set up recurring invoices effortlessly.
Zoho Books: Customizable and Efficient Zoho Books is your go-to solution for creating customized statements and streamlining your invoicing process. Here's why it's a favorite among freelancers:
Customizable Statements: Tailor your invoices to reflect your brand and professionalism. Zoho Books provides customizable templates and designs.
Automated Follow-Ups: Say goodbye to late payments. Zoho Books automates follow-up reminders for your clients, ensuring timely payments.
Invoicing Efficiency: Zoho Books simplifies the invoicing process, allowing you to focus on your work while it takes care of the financial details.
Freshbooks: Quick and Customizable Invoicing Freshbooks is all about efficiency and speed when it comes to invoicing. Here's why it's the go-to choice for those who want to get paid faster:
Ridiculously Easy Invoicing: Freshbooks boasts an invoice generator that lets you create and customize invoices in under a minute. It's that quick.
Deposit Requests: Don't wait until the project is complete. Freshbooks allows you to request a deposit from your client, ensuring you have the funds you need to start work.
Scoro: Comprehensive Invoicing and Finance Management Scoro offers a comprehensive solution that extends beyond invoices, making it an excellent choice for businesses. Here's why it's a financial management powerhouse:
Beautiful Invoices: Scoro helps you create visually appealing invoices that reflect your professionalism.
Late Payment Notifications: Say goodbye to chasing payments. Scoro notifies your clients about late payments, ensuring you get paid on time.
Automation: Scoro automates recurring billing and offers a dashboard with enterprise-level reporting on sales, costs, and budgets.
Square: User-Friendly and Real-Time Square is known for its user-friendly design and real-time invoice tracking. Here's why it's a great choice for managing clients:
User-Friendly: Square's intuitive design makes it easy for freelancers to navigate and create invoices effortlessly.
Real-Time Tracking: Keep a close eye on your invoices in real-time. Square's reporting tools help you stay on top of your financials.
Wave: Your Financial Success Companion Wave is a financial software that helps you manage income and expenses seamlessly. Here's why it's a valuable addition to your financial toolkit:
Comprehensive Financial Management: Wave connects you to payroll, payments, and invoicing, providing an all-in-one solution for your financial needs.
Automation: Wave's automation ensures that your financial tasks are hassle-free and perfectly organized.
Harvest: Modern Accounting and Time Tracking Harvest is more than just an invoicing tool; it's a modern accounting and time tracking software. Here's why it's a favorite among those seeking insights into their accounts:
Visual Reporting: Harvest's visual reporting system offers valuable insights into your accounts without spending hours on them.
Time-to-Revenue: Automate the transformation of time spent into revenue with Harvest's native invoicing.
AND.CO: Your Freelancer Toolkit AND.CO simplifies financial tasks for both freelancers and agencies. Here's why it's a one-stop-shop for your financial needs:
Comprehensive Features: AND.CO offers time tracking, expense management, task automation, and more, making it a complete financial toolkit.
Seamless Freelancing: From managing deadlines to project and contract terms, AND.CO streamlines freelancing tasks, allowing you to focus on what you love.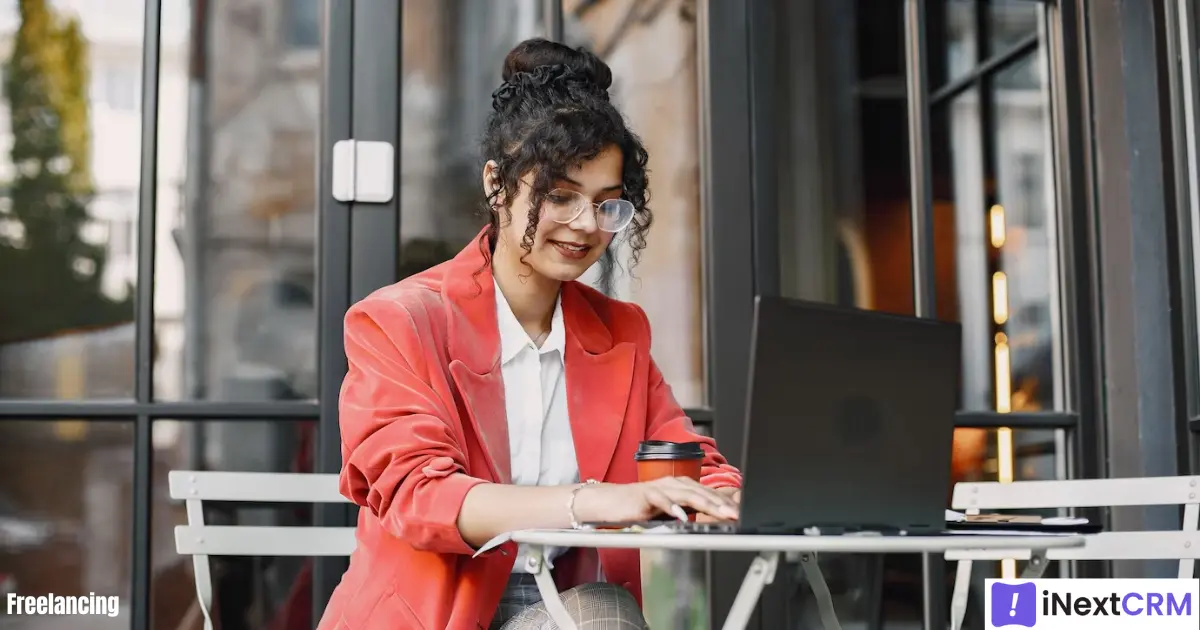 Quickbooks: Your GST-Ready Cloud Accounting Software Quickbooks is a GST-ready cloud accounting software trusted by millions. Here's why it's a must-have for businesses:
Financial Tracking: Quickbooks gives you a real-time view of your financials, ensuring you always know where you stand.
Accessibility: Grant access to colleagues and accountants, allowing them to collaborate seamlessly.
Conclusion
Invoicing doesn't have to be a hassle for freelancers and solopreneurs. The right invoicing software can automate the process, ensuring you get paid on time and have more time to focus on your work. Explore the options mentioned in this article, find the one that suits your needs, and simplify your invoicing process today.
For CRM Solution or Business Automation Service, feel free to reach us at biz@inextcrm.com or call/WhatsApp at +91-7506506672.