Finding the perfect agency management software can be quite a challenge. With a multitude of options available, it's often overwhelming to determine where to start. But fret not; we're here to help. We've curated a list of the top 10 agency management software tools to simplify your decision-making process.
Our selection covers a wide range of aspects, from client management and reporting to analytics, project and task management. Each tool has been carefully chosen to ensure it caters to the diverse needs of agencies. With our list, you're bound to discover the ideal tool to elevate your agency's operations.
In today's modern workplaces, productivity is closely linked to performance. Therefore, having an underproductive workforce can be a significant drain on your business's resources. Agency management software plays a pivotal role in boosting productivity across the board.
These tools are employed by businesses of all sizes, including agencies, to automate workflows and streamline operations. Without further ado, here's our list of tools that will prove invaluable in managing your agency's operations. If you haven't already, it's time to start integrating these tools into your workflow.
Top Agency Management Systems
iNextCRM
iNextCRM – Your All-in-One CRM Solution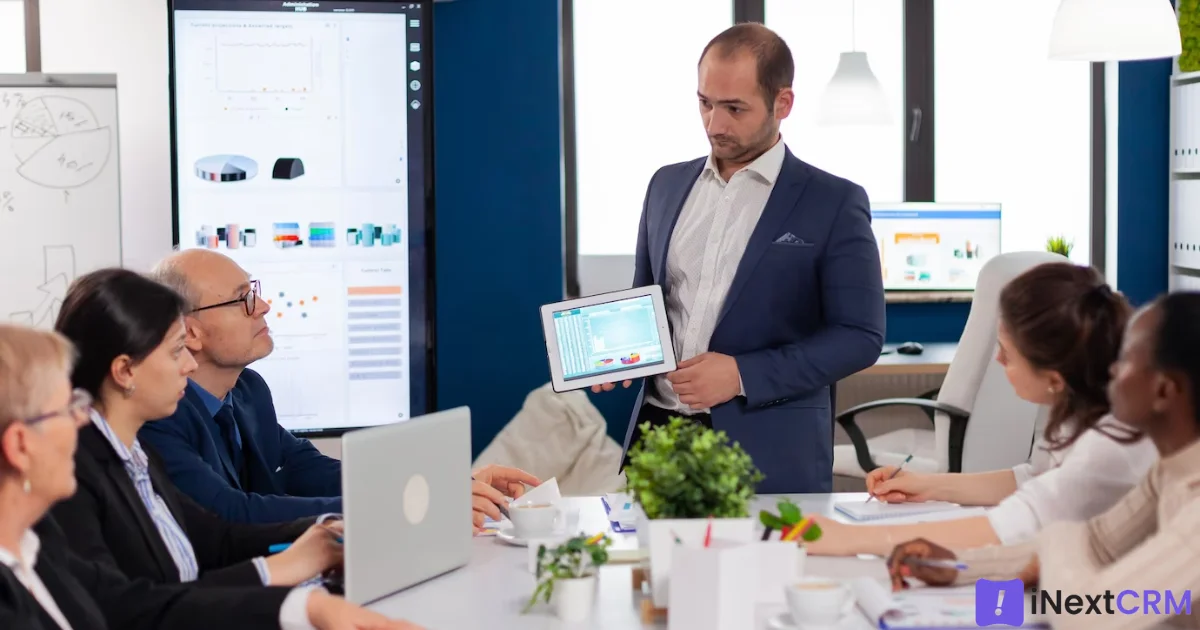 iNextCRM is the ultimate Agency Operating System designed to help you streamline all your internal agency operations while retaining clients for life. Some of its standout features include managing deals through a robust sales pipeline, e-signatures, personalized 1:1 email communication, creating essential documents like proposals, estimates, quotes, and contracts, and the list goes on.
Trusted by over 13,000 agencies in 90 countries, iNextCRM handles interactions with 1.8 million leads, manages 76 thousand clients, and processes payments totaling $25 million each month.
iNextCRM is your "Prospect to Payment Platform," seamlessly guiding you through the entire process, from collecting leads through web forms to automatically adding them to your sales pipeline. After a deal is struck, you can effortlessly draft proposals or contracts and have them electronically signed. From there, you can deliver contracts directly through our 1:1 Mailbox. Once the client accepts, send invoices and collect payments via Stripe, PayPal, RazorPay, Payoneer, or Instamojo. Finally, add clients to the iNextCRM Client Portal for seamless file sharing and real-time updates, complete with free integrations of project management tools like ClickUp, Trello, and more.
Pricing:
SalesIQ – ₹479 per member per month (billed annually)
ProjectPro – ₹359 per member per month (billed annually)
SupportGuru – ₹299 per member per month (billed annually)
UltimatePro – ₹659 per member per month (billed annually)
Try iNextCRM with a Free 14-Day Trial: Sign Up Here
Productive
All-In-One Agency Management System | Productive
Productive offers a real-time snapshot of your agency business, whether you're part of the marketing or sales team. It's designed to be user-friendly, making it accessible for everyone, from sales to marketing teams. Core features include resource management, project management, time tracking, budgeting, reporting, and billing.
With Productive, which seamlessly integrates scheduling, budgeting, time tracking, and project management, you can consolidate all the essential information you need to run a successful business in one place.
The program boasts more than 50 pre-built reports that organizations can start using immediately. These reports combine data from various sources, including service rates, salaries, tracked time, budgets, capacity, and availability. Utilization reports empower managers to keep a close eye on profitability and make necessary improvements. Granular reporting on projects, clients, personnel, or industries enables users to quickly identify spending patterns and revenue sources. Productive also allows for the creation of custom reports from scratch.
Pricing:
Essential: $20/month
Professional: $28/month
Ultimate: $39/month
Monday.com
Monday.com – Unleash Your Team's Potential
Monday.com stands out for its exceptional user interface, versatile views, seamless integration with numerous apps, easy-to-implement automation, and ample storage space. Its capabilities make it suitable for everything from straightforward work management to comprehensive customer relationship management (CRM).
Monday.com's advertising project management and resource scheduling services cover resources, projects, and communication tools. Users can upload files, leave comments, mention colleagues, and perform a host of other actions. The platform consolidates information from various boards and provides a project reporting dashboard for easy monitoring and progress tracking. With this highly customizable application, you can employ the methodology that best suits your team and project.
Pricing:
Basic: $10/month
Standard: $12/month
Pro: $20/month
Enterprise: Custom pricing
ClickUp
ClickUp™ – One App to Replace Them All
ClickUp offers a comprehensive solution for organizing documents, setting goals, and collaborating with team members. You can assign and schedule projects and tasks to coordinate team members' workloads and time effectively. The platform includes features like subtasks, checklists, priorities, reminders, and templates for task management. Customizable task sorting and filtering based on user preferences are also available.
ClickUp provides visualization tools such as Gantt charts, Kanban boards, calendars, and timelines to display team tasks. Collaboration is seamless with live chat, whiteboards, comments, and proofreading features. Robust reporting capabilities offer key insights into team performance and scheduling. This is invaluable for project managers, enabling them to stay on top of tasks and optimize team workflows. ClickUp's templates facilitate budget report creation and monitoring to ensure adherence to budgets and make necessary adjustments.
Pricing:
Unlimited: $9/month
Business: $19/month
Business Plus: $29/month
Screendragon
Agency Management Software – Screendragon
Screendragon empowers high-performing teams to manage marketing campaigns, tasks, resources, and workflows online. It strikes a perfect balance between design and technology by facilitating information flow, resource planning, and asset sharing to boost productivity, compliance, and quality in marketing functions. Marketing agencies and professional services teams can control people, processes, and profits from a single platform using Screendragon.
Screendragon allows brands to design and tailor terminology, templates, forms, workflow rules, notifications, reports, and pricing to their exact requirements. It offers enterprise-class hosting settings and service levels. Comprehensive authorization controls ensure that only the right people access the right data at the right time. Screendragon combines a user-friendly interface with robust capabilities, offering digital briefs, personalized workflows, and visual work-in-progress dashboards. It also offers online proofing, resource scheduling, planning, forecasting, time-keeping, budget tracking, and reporting.
Pricing: Available upon request
Asana
Manage Your Team's Work, Projects, & Tasks Online • Asana
Asana is more than just project management software; it's a collaboration and productivity toolkit. While it may lack integrated time tracking and advanced project scheduling, it excels in task management due to its versatile and intuitive user interface, making team collaboration effortless. Notable features include workload management, task assignment, and numerous app integrations.
Asana is a user-friendly project management platform that offers a plethora of functionality to support team collaboration, project management, and progress tracking. It's a popular choice for both small teams and large enterprises due to its flexibility and simplicity.
Pricing:
Basic: Free
Premium: $13.49/month
Business: $30.49/month
Synergist
Agency Remote Working Software
Synergist is a project management and job costing tool that aids in communication, project planning, time tracking, project costing, billing, opportunity tracking, and more for agencies, consultants, and internal departments.
It streamlines end-to-end project management and collaboration for enterprises while providing real-time project visibility to ensure alignment between teams and clients. Synergist leverages features like online approvals, email integration, document management and sharing, and a built-in CRM system to facilitate communication among team members and clients. Users stay informed about project status and overall business performance thanks to customizable reports, dashboards, and alerts. Reports can be tailored to meet specific business needs.
Pricing:
Foundational: £300/month
Professional: £650/month
Enterprise: £1600/month
Wrike
Wrike Windows & Mac Desktop App For Project Management
Wrike offers teams an all-in-one collaboration tool that streamlines project management. Users can communicate directly within the app, eliminating the need for back-and-forth calls, texts, and emails.
Wrike stands out for providing a comprehensive view of every crucial aspect of a project without requiring excessive clicking. With three windows on the dashboard, users can access their entire workflow at a glance. Additionally, Wrike offers integrated reporting capabilities, enabling customers to monitor progress and identify obstacles. The platform integrates with well-known applications like Slack, Google Drive, and Dropbox, simplifying data retrieval. Wrike is renowned for its user-friendly interface, extensive feature set, and suitability for project management.
Pricing:
Team: $9.80/month
Business: $24.80/month
Enterprise: Custom pricing
Teamwork
Teamwork 2023 Overview: Pricing, Ratings & Details
Teamwork simplifies task and project import with its excellent tool integration. It offers a variety of views, including lists, Kanban boards, tables, and Gantt charts, to accommodate various preferences.
Teamwork supports collaboration, reporting, file management, and project monitoring with a wide range of options. Automation, third-party app connectivity, and additional modules like CRM, Desk, Chat, and Spaces provide added functionality. It's favored by businesses aiming to streamline operations, thanks to its focus on project management, teamwork, and time tracking. Teamwork's appealing user interface makes it easy for users to adopt the program quickly, with reliable customer support and security measures enhancing its appeal.
Pricing:
Starter: $8.99/month
Deliver: $13.99/month
Grow: $25.99/month
Harvest
Time Tracking Software With Invoicing | Harvest
Harvest primarily focuses on time tracking, project management, budgeting, and billing. It seamlessly integrates with other applications like Slack, Trello, and QuickBooks, allowing teams to use their preferred tools while working within a single platform.
Harvest is widely adopted due to its user-friendly interface and comprehensive insights into team performance. While it doesn't handle payroll, it excels at swiftly analyzing data and optimizing time utilization. Harvest includes common features such as time and expense management, reporting, analytics, and timesheets, all contributing to more accurate invoicing.
Pricing:
Forecast
AI Project & Resource Management Software For Professional Services
Forecast is a powerful agency management tool for managing projects, resources, time, and finances. It offers a range of tools for project tracking and campaign management, including task management, project schedules, and project milestones.
Forecast's resource management feature allows for resource allocation to tasks and projects, ensuring optimal resource utilization. You can create precise budgets and track costs with the budget management feature, keeping projects on track and within budget.
Pricing:
Lite: €25/month
Pro: Custom pricing
Plus: Custom pricing
Scoro
Building & Construction Management Software | Scoro
Scoro is a comprehensive business management tool that combines sales, project management, and reporting. It streamlines planning, scheduling, and tracking of projects, allowing your company to deliver high-quality work.
Scoro's effective business management features include teamwork and task management, project management, time tracking, and invoicing. It offers various integrations with popular apps like Slack and Outlook, enhancing team efficiency. Scoro also provides analytics for monitoring performance and adapting processes as needed.
Pricing:
Essential: $28/month
Standard: $42/month
Pro: $71/month
Ultimate: Custom pricing
Accelo
Project Tracking Software | Increase Productivity | Accelo [Try Free]
Accelo's advertising agency management software encompasses project management, customer relationship management, and time tracking. It assists agencies in managing projects, tracking time, and invoicing, among other tasks.
Accelo streamlines communication with clients and within teams through features like work delegation, notifications, and reporting. It integrates easily with other platforms and offers a user-friendly interface.
Pricing:
Plus: $30/month
Premium: $49/month
Nifty
Nifty Project Management Review (Key Features, Pros, Limitations) | ClickUp
Nifty is a cutting-edge digital project manager and management tool that condenses project development cycles and enhances team efficiency by integrating all essential project management components into a single software.
Nifty's task management features include file and document sharing, a built-in calendar, and both Kanban and list views for work management. It offers various tools to track tasks from start to finish, including Gantt charts, Kanban boards, lists, swimlanes, and a calendar. Nifty's customizable dashboard features data widgets and a visual roadmap for conveying project milestones and dependencies.
Pricing:
Starter: $49/month
Pro: $99/month
Business: $149/month
Unlimited: $499/month
Hive
Hive Project Management Review | Developer.com
Hive is a user-friendly platform for team communication and project management. It simplifies project organization, task prioritization, and workflow streamlining through its extensive feature set, visual project layouts, integrated collaboration tools, and AI capabilities.
Hive enables businesses to use Kanban boards for project organization, resource utilization charts for productivity monitoring, and deadlines for keeping work on track. It helps teams identify inefficiencies and streamline their workflows, leading to improved coordination and communication. Hive also offers performance assessment and correction capabilities.
Pricing:
Teams: $18/month
Enterprise: Custom pricing
Smartsheet
Task Management Software | Smartsheet
Smartsheet is a modern work management platform that brings people, processes, and technology together for impactful change. Businesses of all sizes use Smartsheet to manage projects, automate processes, and gain visibility into program and portfolio scaling.
Smartsheet allows for the creation of dropdown menus within cells to quickly access contacts, calendar events, team members, or open tasks. It supports the creation of task checklists, task assignment, and setting deadlines through multiple dropdown choices. Smartsheet's advantage lies in its ability to add an unlimited number of custom fields to each task, setting it apart from other project management tools.
Pricing:
Pro: $9/month
Business: $32/month
How to Choose the Right Agency Management Software
Tips to Choose the Right Agency Management Software
Choosing the right agency management software requires careful consideration of your agency's needs. Here are some tips to guide your selection process:
Determine Your Needs: Before investing in any software, assess your agency's specific needs. Consider whether monthly subscription costs are justified.
Choose What Works Best for You: Don't feel obligated to use a tool just because it's popular. Identify what works best for your team.
Get Opinions: Seek feedback from your team members about using a new software tool. Their input is valuable.
Usability: Select software that simplifies your agency's workflow. Avoid tools that require extensive training.
In conclusion, the right agency management software can enhance productivity, streamline operations, and improve customer service. It's an investment that can lead to business growth. If you're looking for a CRM solution or business automation service, feel free to reach us at biz@inextcrm.com or call/WhatsApp us at +91-7506506672.
In conclusion, these top agency management software tools offer a wide range of features to suit various agency needs. Whether you're a marketing agency, consulting firm, creative agency, or a business managing multiple projects, there's likely a software solution on this list that can help you streamline operations, enhance collaboration, and improve overall efficiency. Remember to assess your agency's specific requirements, usability, and team preferences when choosing the right software for your organization. The right tool can lead to increased productivity, better project management, and ultimately, business growth.